"FLUORIDATION IS THE SINGLE MOST EFFECTIVE PUBLIC HEALTH MEASURE TO PREVENT TOOTH DECAY AND IMPROVE ORAL HEALTH OVER A LIFETIME, FOR BOTH CHILDREN AND ADULTS."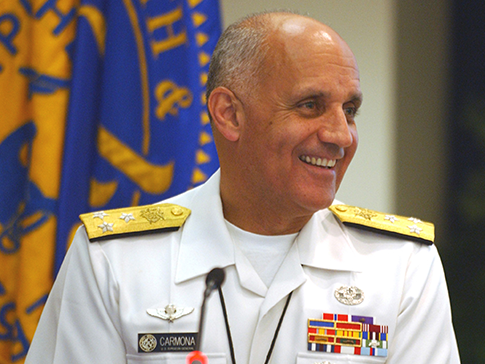 Quote from Richard Henry Carmona America's Seventeenth Surgeon General
Since 1950, every Surgeon General of the United States a.k.a. the
Nation's Doctor has
taken a stand on the science behind fluoride.
So did America's 17th Surgeon General, Richard Carmona.
A Puerto Rican American, born in New York City, raised in Harlem, Dr. Carmona experienced homelessness and poverty as a kid and was a high school dropout in 1966.
In 1967, he enlisted in the army, served in Vietnam as a medic, worked his way through college as a paramedic and nurse, and then graduated at the top of his medical school class.
Thirty-five years later, he became Surgeon General. As the "nation's doctor," it became his job to assess the science of all kinds of health matters ... including the question of whether fluoridation (a.k.a., controlling the amount of fluoride in drinking water) is a good idea.
That quote above sums up his assessment of the science ... Single most effective. Prevent tooth decay. Improve oral health. For both children and adults.
Dr. Carmona's assessment of fluoridation was that the science says it is a great idea.
OK. Cool.
But this is science, so of course there's more to it.
So next, I want to go to ....