FLUORIDATED WATER HAS JUST A LITTLE FLUORIDE
And it works as both systemic fluoride and topical fluoride
TL;DR summary:
The recommended ideal amount of fluoride in water is a small amount (0.7 parts per million, or ppm). It strengthens kids' developing teeth from the inside out (a.k.a. systemically), forming enamel made from fluorohydroxyapatite, a dental mineral that is more resistant to bacterial acid attacks. This inside-out strengthening helps prevent cavities in pits and fissures of kids' molars.
That little bit of fluoride in the water you and your kids drink also works from the outside in (a.k.a. topically) – like toothpaste does, but all throughout the day. That 0.7 ppm of fluoride in water works topically in three ways. It slows down the tooth decay bacteria's production of acid, makes it harder for the acid to demineralize (a.k.a. partially dissolve) enamel, and remineralizes enamel that has dissolved as super strong fluorohydroxyapatite. Fluoridated water has just a little bit of fluoride in it – not too much and not too little – and it works both systemically and topically.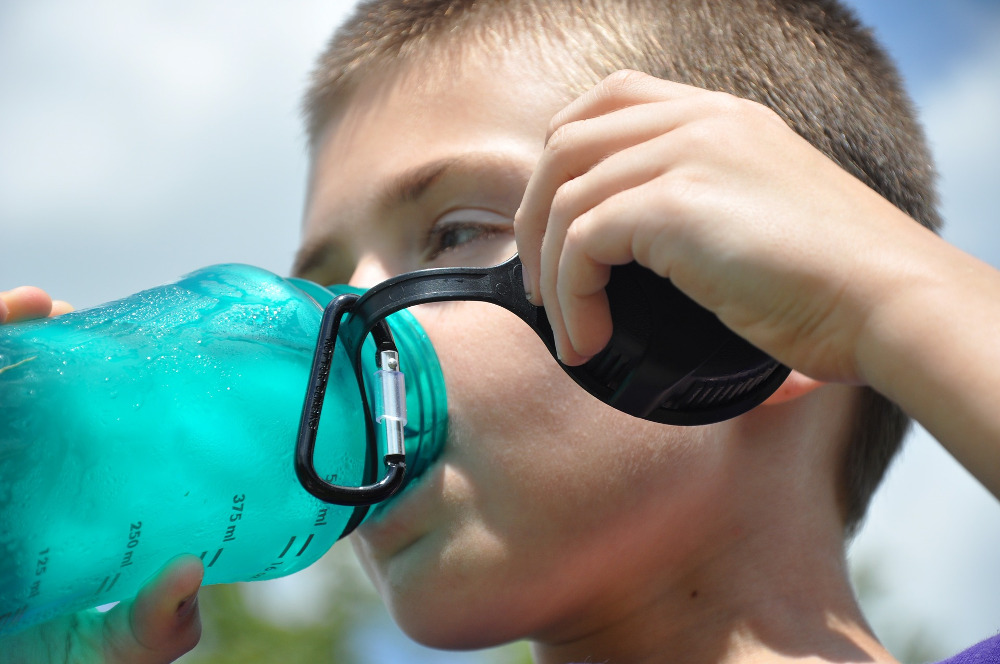 If there's the right amount of fluoride in your water, you and your family get the benefits of cavity prevention throughout the day, as you drink water.
And that right amount is not very much: a concentration of 0.7 ppm ...
What's ppm? That's parts per million. For every million parts of water, there's less than one part of fluoride … ppm also equals milligrams (mg) per liter.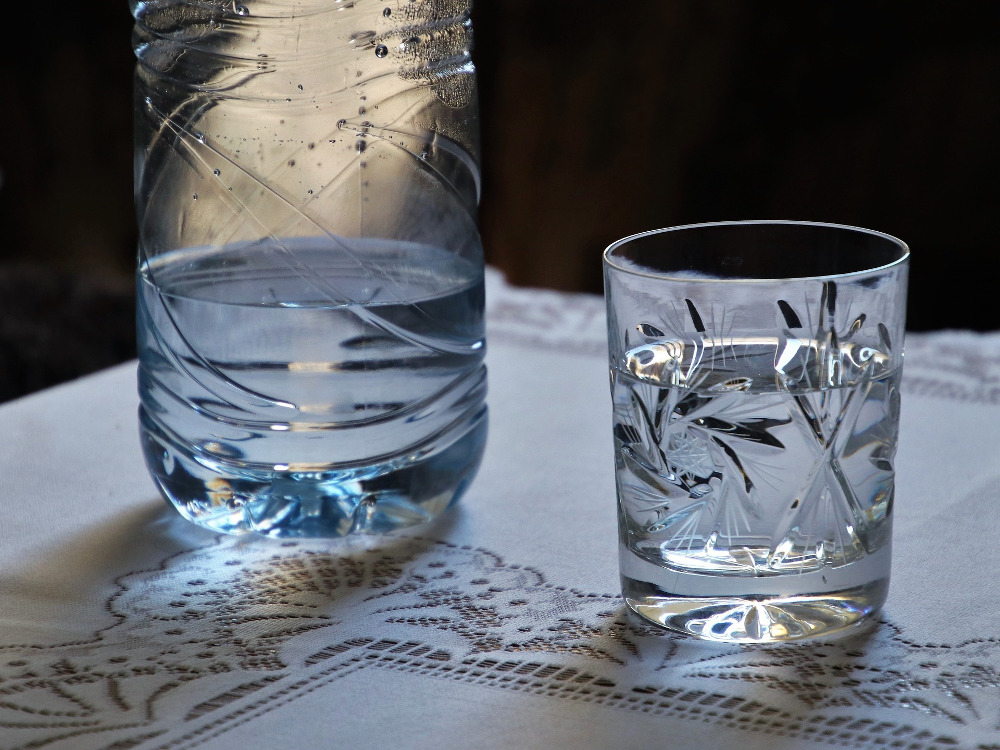 So there's 0.7 mg of fluoride ions in every liter of fluoridated water. A concentration of 0.7 mg in a liter is like one minute in over two-and-a-half years.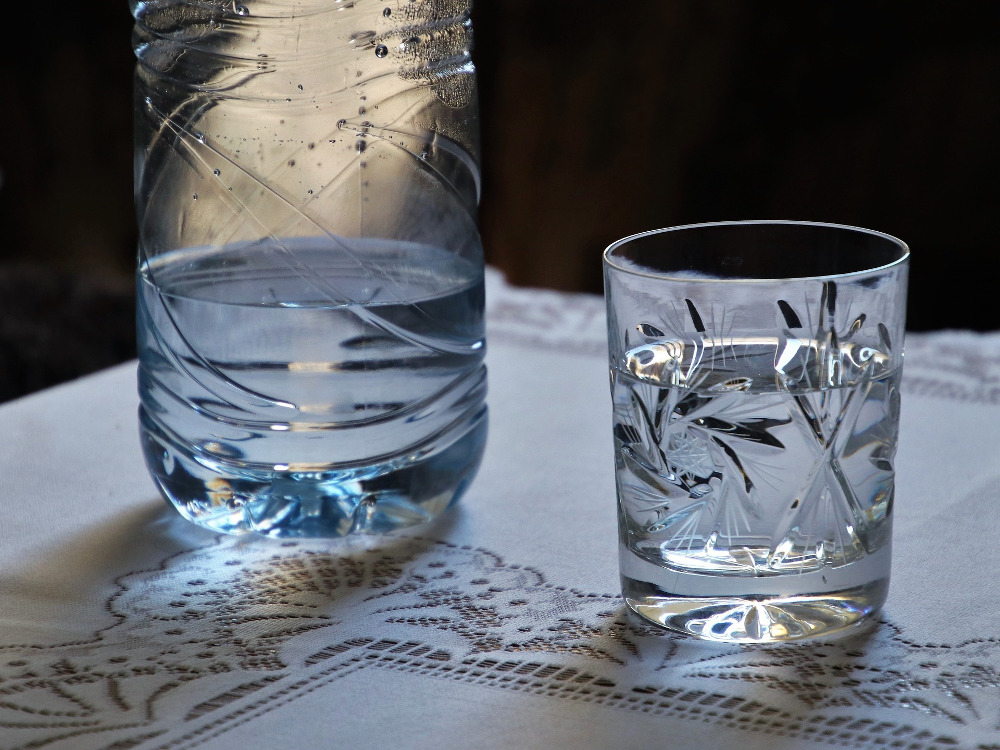 It isn't very much ... but it is enough to help!
It's enough to strengthen kids' teeth from the inside out as they are growing. And enough to make sure there's a little bit of fluoride ions hanging around in your and your kids' mouths throughout the day – ready to fight bacteria and acid, and ready to remineralize and repair the damage caused by bacterial acid attacks after you eat.
Fluoridated water bridges both systemic fluoride and topical fluoride in how it works.
Systemic mechanism of fluoridated water - it's for the littles!
In the systemic mechanism, babies, toddlers, and kids ingest that little bit of fluoride as their teeth are developing under the gumline, and the fluoride is incorporated into the enamel of the developing tooth as a particularly strong mineral called fluorohydroxyapatite or fluorapatite.
What do we and dental organizations mean when we say that fluorohydroxyapatite and teeth with fluoride are strong? It is not that fluorohydroxyapatite is particularly harder or more resistant to breaking. It is that fluorohydroxyapatite can't be dissolved by acid as easily.
This fluoride incorporation during the systemic mechanism happens as the enamel is first formed. So this mechanism is also known as "pre-eruptive" because it occurs before those baby teeth and permanent teeth "erupt" into kiddos' mouths.
One of the ways we know that this formation of fluorohydroxyapatite gives kids' teeth stronger enamel (a.k.a. more resistant to being dissolved by acid) than kids would have otherwise is from careful studies of cavities in children who have only had fluoridated water prior to their teeth coming in, compared to kids who never had fluoridated water. Other similar kinds of studies examining how much fluoridated water kids drink before and after teeth erupt also show the benefits to kids' teeth. Kids who have had fluoridated water before their teeth erupted have fewer cavities in the pits and fissures of their new permanent molars.
Topical mechanism of fluoridated water – fluoride working for you throughout life
We have pretty good evidence that both the systemic effect and the topical effect of drinking fluoridated water help kids have fewer cavities. Once you are more grown up, though, while the pre-eruptive effects may work for a while … eventually the main way fluoridated water is working in adults is by the topical mechanism.
And this is where things get pretty interesting, because just by enjoying some refreshing H20, fluoride can do so many things topically for you and your kids' teeth …
First, the fluoride in fluoridated water makes enamel resistant to acid attacks by blocking some of the effects of acid (bacterial acid attacks = after you eat, bacteria feed on sugars and carbohydrates and produce acid, and that acid dissolves enamel). The fluoride from the water goes into your saliva, and then when the bacteria produce acid, the fluoride ions travel with the acid down to the enamel surface … and there the fluoride sticks to the surface and protects it from being dissolved by the acid.
Second, the fluoride in fluoridated water speeds up remineralization of enamel after those acid attacks, attracting calcium and phosphate back into the enamel faster. Fluoride in your saliva also remineralizes the enamel as fluorhydroxyapatite or fluorapatite. This mineral that fluoride forms in the enamel is much harder for future acid attacks to dissolve … fluorhydroxyapatite and fluorapatite are more resistant to acid than the enamel that only has calcium and phosphate in it. When you or your kids drink fluoridated water, you've got these low levels of fluoride being replenished into your saliva and hanging out in your mouth throughout the day, so fluoride is there to remineralize your enamel faster and stronger at all times – not just the two times a day that you brush.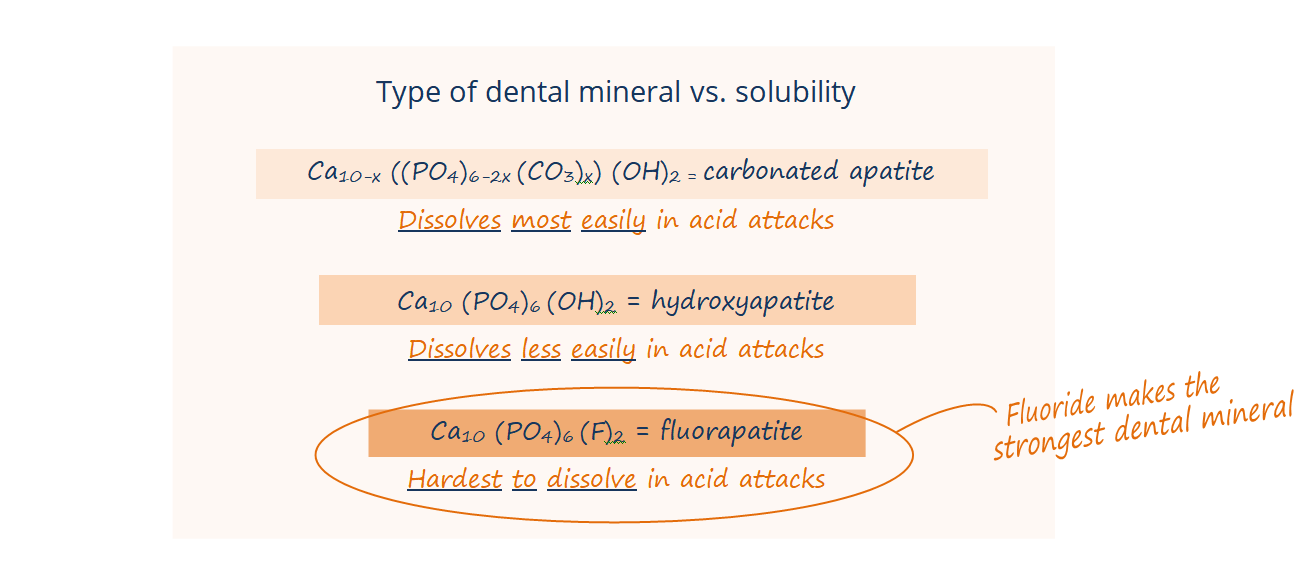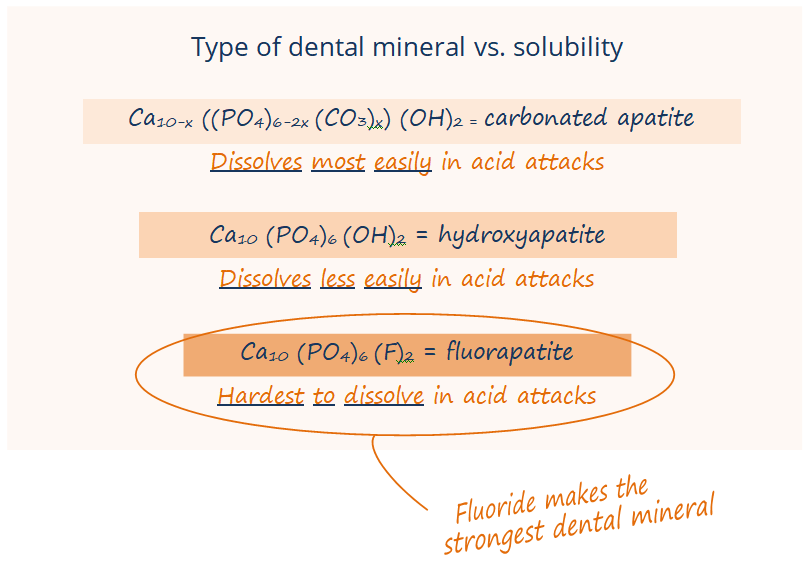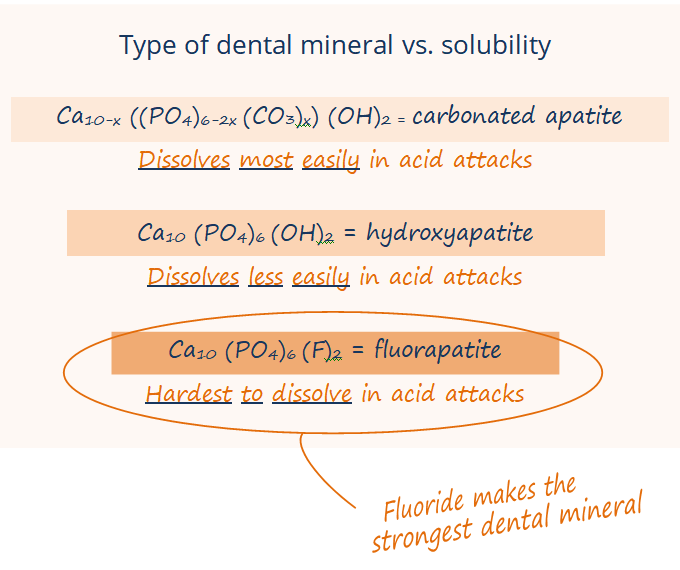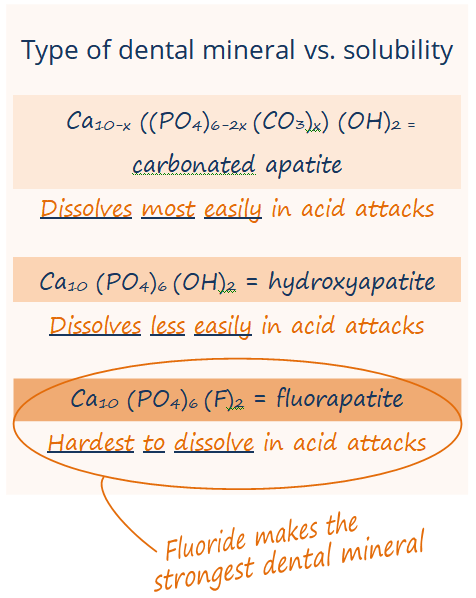 Oh but there's one more way that fluoride in the water you drink fights tooth decay as topical fluoride. The fluoride also directly fights the bacteria that cause tooth decay. The acid produced by the bacteria combines with fluoride ions, forming tiny bits of hydrogen fluoride. This hydrogen fluoride gets absorbed by the bacteria, and once inside, fluoride slows down and inhibits the bacteria's enzymes that produce acid in the first place.
All these ways that the right amount of fluoride in water fights bacteria and acid attacks is also a natural way to prevent cavities.
Dr. David Satcher, the pioneering Surgeon General who made oral health a national priority in the early 2000s, with a first-of-its-kind Surgeon General's report on oral health in America, described the natural phenomenon of fluoride in water fighting tooth decay:
"At the turn of the last century most Americans could expect to lose their teeth by middle age. That situation began to change with the discovery of the properties of fluoride, and the observation that people who lived in communities with naturally fluoridated drinking water had far less dental caries (tooth decay) than people in comparable communities without fluoride in their water supply.

"Community water fluoridation remains one of the great achievements of public health in the twentieth century—an inexpensive means of improving oral health that benefits all residents of a community, young and old, rich and poor alike."
So fluoride in water – in the right amount – is a pretty amazing natural and biological phenomenon. It works with just a tiny amount of fluoride in the water, and it works as both systemic fluoride and topical fluoride … but watch out … We also have to be wary of too much of a good thing. We discuss where water has too much fluoride in this article. We also have to be aware that fluoride alone is not enough to prevent all tooth decay, which we discuss in this article. It's still pretty remarkable, though, that the whole family can fight tooth decay bacteria and the acid and cavities they produce just by drinking some healthy refreshing water.