Why you shouldn't use fluoride free toothpaste
Brushing with fluoride toothpaste is for everyone in the family
TL;DR summary:
For a healthy mouth and body, you've got to use fluoride toothpaste. And skip the fluoride free toothpaste. Brushing with fluoride toothpaste is for everyone in the family, twice a day. But make sure you're using the right amount. Brush the teeth of babies and toddlers under age three with a rice-grain size "smear" of fluoride toothpaste from their very first tooth. Three- to six-year-olds who can spit should brush with a small pea-sized amount under supervision. Older kids and adults also use a pea-size (a larger pea is o.k. :) … Everyone should brush for 2 minutes twice a day.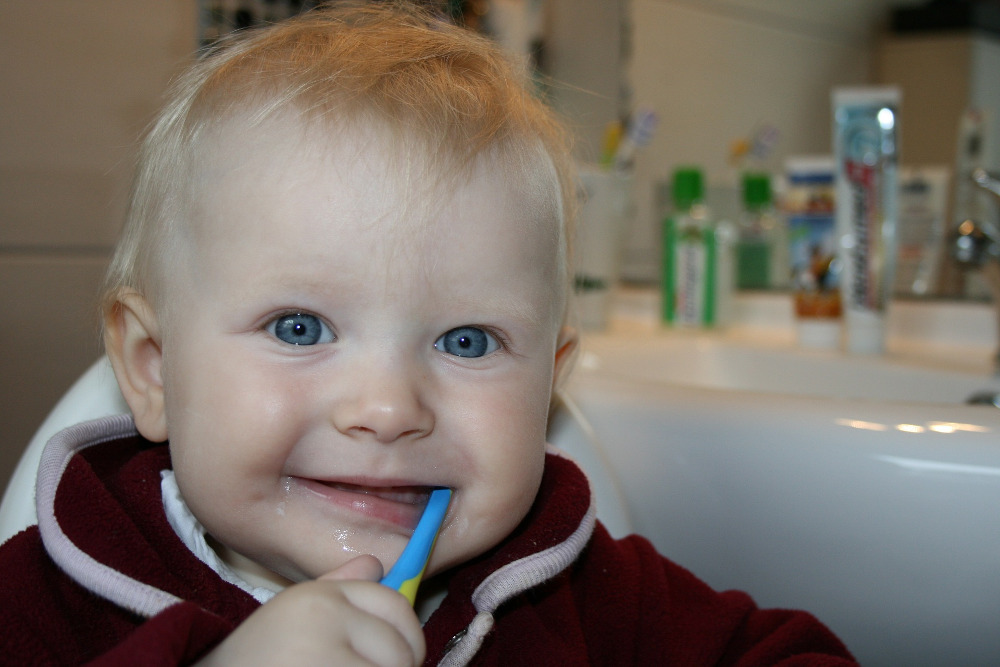 Everyone who has teeth should be brushing twice a day with fluoride toothpaste.
There's even a Twitter hashtag #2min2x ... that's two minutes two times a day. (Pro tip: You can not only follow all the dentist nerds from the #2min2x hashtag ... you can also find cute memes, videos, and tips. The #2min2x.org website has more resources, too.)
You need to be sure you're using the right amount, though.
That right amount varies by age and a kid's skills. The recommended amount has also had a pretty recent change for kids under age 3, so as we mentioned in our article on how fluoridated water and fluoride toothpaste work together, be aware that you might encounter outdated info out there for toddlers and babies.
Here's the up-to-date recommendation: Under age three, starting with the very first baby tooth, you should only use a teeny tiny rice-grain size "smear" of fluoride toothpaste. Starting at age three until age six, you can start teaching your kids how to spit, and kids can then use a small pea-size amount.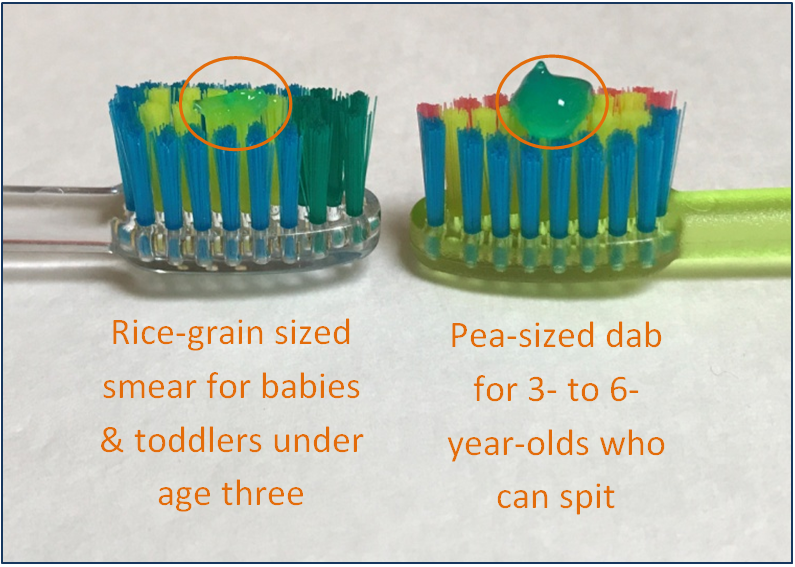 A pea-size amount of fluoride toothpaste is the baseline recommended amount for older kids and adults to use in regular twice daily brushing, too. Moms, dads, and grandma and grandpa are fine to use a large pea :) ...
But those full ribbons of toothpaste across the whole brush in toothpaste ads aren't necessary. Ribbons just look good in magazines.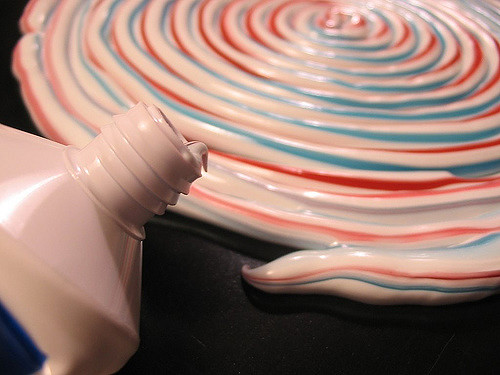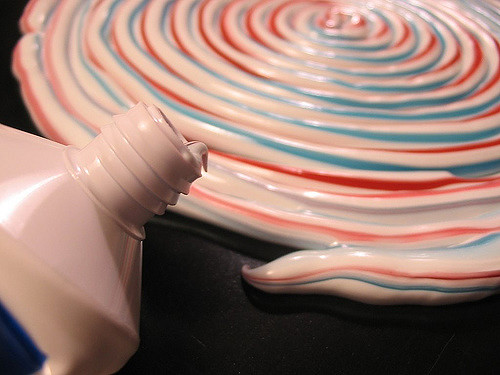 Also, if you've got extra risk for cavities, your dentist or hygienist might recommend stronger prescription-strength toothpastes – some hygienists suggest that more adults than not need a prescription toothpaste, since so many of us have exposed roots, dry mouth, and other factors putting us at higher risk of cavities.
Your dentist and hygienist is the best source of info about what kind of toothpaste is best for you, though. And remember that you need to take care of your child's teeth as soon as their first baby teeth come in and take them to a dentist by age one.
Getting advice from a good evidence-based pediatric dentist or general dentist who is up-to-date on the latest evidence on fluoride toothpaste under age 6 is especially important because the labels on toothpaste themselves don't give the most up-to-date recommendation. The labels required by FDA say to consult a dentist under age 2 – that's great. But the labels provided by manufacturers also say to use a pea-size starting at age 2 – that's not so great, because it is pretty confusing that the directions on the toothpaste box are different than the latest recommendations from all the dental science organizations. We explore the confusion over toothpaste labels and recommendations more in our article Why you shouldn't swallow toothpaste but should drink fluoridated water. In the meantime, if you want to follow the science organizations' latest assessment of best use, hold off on the pea-size until age three despite what the label says, and consult your dentist about the new recommendations for fluoride toothpaste at all ages.